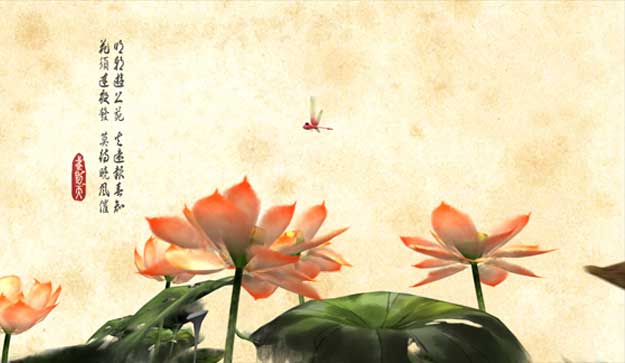 長度/Length:3 min 49sec
年份/Year:2009
技術/Technique:2D電腦動畫 2D Animation

影片介紹:
改編中國古典小說《鏡花緣》之女兒國單元,結合地方皮影與墨影動畫的特色。描述主角唐敖因不得志而對人生失去信心,隨林之洋與多九公出海散心,遊歷天下,途中見識了女兒國的奇風異俗。林之洋落難被女兒國國王綁架,迎娶為王妃,唐敖苦思計量排除困難,進而帶領人民解除水患,成功營救林之洋歸來,重新找回人生的自信與方向。這是一部富有中國風味與幽默的的劇情動畫。
Synopsis:
Adapted from the "Country of Women" in a famous Chinese classical novel- -Flowers in the Mirror, the work combines characteristics of both local shadow-play and ink-shadow animation. Tang Ao, protagonist of the story, lost gradually his confidence in life because of being not successful; he then went out to sea with Lin Zhiyang and Duo Jiugong for travelling all around the world, experienced various exotic customs in the Country of Woman. After that, Lin Zhiyang met with adversities and was kidnapped by king of the Country of Women, who wanted to take him as an imperial concubine. After careful deliberation, Tang Ao eliminated every difficulty, not only resolved the problem of flood disaster, but successfully rescued Lin Zhiyang and sent him back home, the leading role was therefore able to find self-confidence and direction of life again. This creation is a story animation rich with Chinese culture essence and humor.
明日工作室
明日工作室創辦人為溫世仁先生和蔡志忠先生,致力於人文與科技的結合,以企業化的經營方式,整理並開發人類最珍貴的創意資產。以深度的知識獲得更有趣、讓優質內容的傳播更便捷為主要目標。
Tomorrow Studio Corp., founded by Mr. Sayling Wen and Mr. Tsai Chih-Chung, devotes chiefly to the integration of humanity and technology, with enterprise project management, to classify and develop the most valuable creative assets of humankind. The main operation goal of Tomorrow is to facilitate the acquirement of in-depth knowledge in an interesting fashion and to allow the dissemination of high-quality contents in a prompt way.