In Talking Forest 語林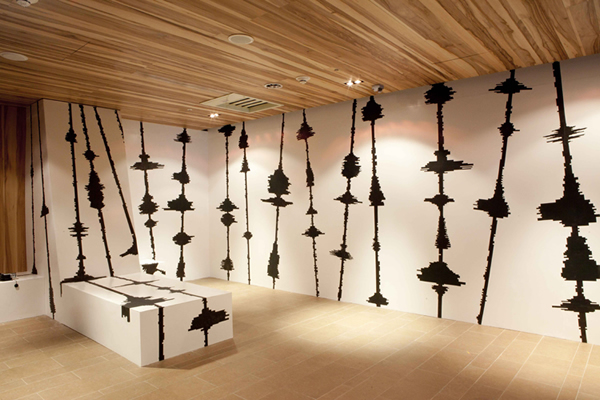 曾偉豪《語林》,互動裝置,尺寸視空間而定,2012。
Wei-Hao Tseng, In Talking Forest, Interactive Installation, Dimension Variable, 2012.


作品說明
            曾偉豪的創作都著重探討「聲音∕空間∕身體」的交互作用。經由身體作為介質所產生的互動雜訊,透過指尖與導電油墨的接觸,創造一種視覺、觸覺與聽覺結合的想像。
            這件作品想表達一種身處聲音風景的想像。在環境中,每個對話、每個聲音都有其獨特的頻率,在人與人對話或人與自然環境互動的同時也被這些獨特的頻率穿透,藝術家想創造一種可以讓身體接收穿越的視聽感受。作品中的黑色區塊是藝術家從一些對話和自然環境錄音擷取下來的頻率圖,當這些圖樣翻轉成垂直時,非常像樹的樣子,並透過這樣的聯結想像對話成為一座森林,雖看不見卻身處其中。希望透過這樣的視覺形式和身體接觸的互動聲音,讓觀眾感受到被聲音穿透的感覺,就像進入一個由話語聲音所構成的森林風景。
Introduction
             This work uses conductive ink and pencil as intermediaries. The interactive white noise created through the introduction of people and the contact of fingertips on conductive ink creates a combination of visual, tactile and aural experience. With this work Tseng seek to express my feelings at finding myself in a sound landscape. In the environment in which we live, each conversation or sound has its own unique frequency. However, as people converse with each other or interact with the natural environment they are also penetrated by these unique frequencies. As such, Tseng wanted to create a visual and aural sensation that allows people to physically view those frequencies. The black areas in the work represent a frequency chart derived from recorded conversations and sounds from nature.
            When these are placed vertically they look very much like trees. It is through this connection that viewer would be able to imagine conversations as a forest, something that although invisible to the human eye surrounds all of us. Tseng utilize this visual form and the interactive sound created from contact with people in a way that allows us to feel first hand the sensation of being penetrated by sound. In this way, viewers are transported into a forest landscape made from words and sound.